By Kine Bjoralt
Hi there!
This is Kine Bjoralt – Marketing & Communications Executive at Ingredient Communications. We might as well get any confusion about my name out of the way early. It's Norwegian and I'm a girl not a guy, although hopefully you can tell that from my photo! Anyway, I do get called all sorts of things (and sometimes mistaken for a man) so here's an easy guide to pronunciation:
But this blog isn't about my name. In fact, I've just got back from attending Health Ingredients Europe in Amsterdam. The Ingredient Communications team were there in force, along with some of our fantastic clients. As ever, the show was a fascinating mixture of current and future trends in the world of nutrition. I was looking forward to trying out as many new healthy ingredients as possible. With that in mind, the first thing I did after landing at Schiphol Airport was to order the local signature dish – a big portion of thick French fries generously smothered with creamy mayonnaise. Well, we can't be good all the time!
You might wonder what PR people do at a trade show (apart from eating the samples, that is!) In fact, a lot of the hard work takes place in the months and weeks running up to the event. We advise our clients on their communications strategy for the show, and how to ensure this reflects the messages they'll be delivering on their booth. A key task is to prepare press releases that will entice visitors to stop by our clients' stands. Then a couple of weeks before the trade fair, we will contact key journalists to invite them to meet with our clients during the show. This is designed to secure good coverage during and after the fair, and build stronger relationships with the media. During the event itself, we are with our clients all the way, helping to ensure that meetings with the editors go smoothly and without a hitch.
For me, the best thing about a show like HIE is seeing all this effort come to life. All the brainstorming, the planning, the hard work finally realised in the flesh! I spent most of my time with Allma, a brilliant new company based in Portugal that supplies sun-grown Chlorella. Microalgae like Chlorella are widely seen as "the next big thing" in food and drink (as Allma says "The future is green") and it was wonderful to see such high levels of interest in Allma's concepts among visitors. We'd advised Allma on a comprehensive PR & advertising programme in the run-up to HIE, and it's fair to say that it really did bear fruit as their booth was really busy on all three days.

My colleague Richard Clarke was over on the Arla Foods Ingredients stand, where there was feverish excitement about the appearance of Allan Steen Olesen, who is Denmark's champion triathlete. He's the new brand ambassador for HYDRO.365, Arla Foods Ingredients' whey protein for sports nutrition. Allan says HYDRO.365 has made a real difference to his recovery times between training sessions and helped him up his performances since he turned pro earlier this year. He's a really nice guy – and so humble in spite of all his amazing achievements.
After a long day at the HiE we tried out some local restaurants too including De Kas, a restaurant inside a greenhouse. I love the concept. They actually grow their own herbs and vegetables- No wonder the food was amazing.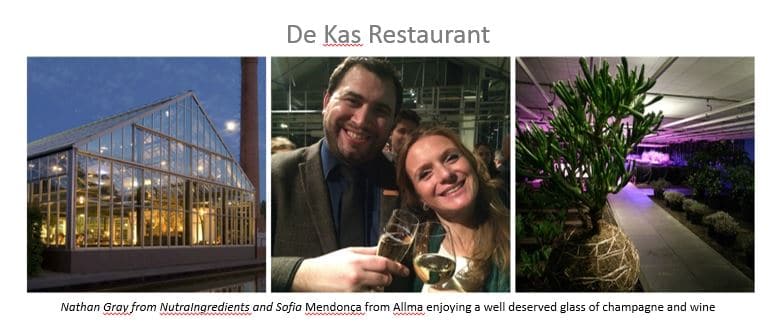 In the few spare moments I had to myself, I wandered the show looking for innovations and curiosities. Maybe it was my Viking genes, but somehow I mustered the courage to try mealworms, baby crickets and grasshoppers. When you get over the "yuk" factor, they're actually pretty tasty – just like any other crispy snack. With a bit of refinement to the flavourings – and perhaps a mayonnaise dip– I think I could get used to them. To be honest, my first time eating sushi was worse and I love sushi now!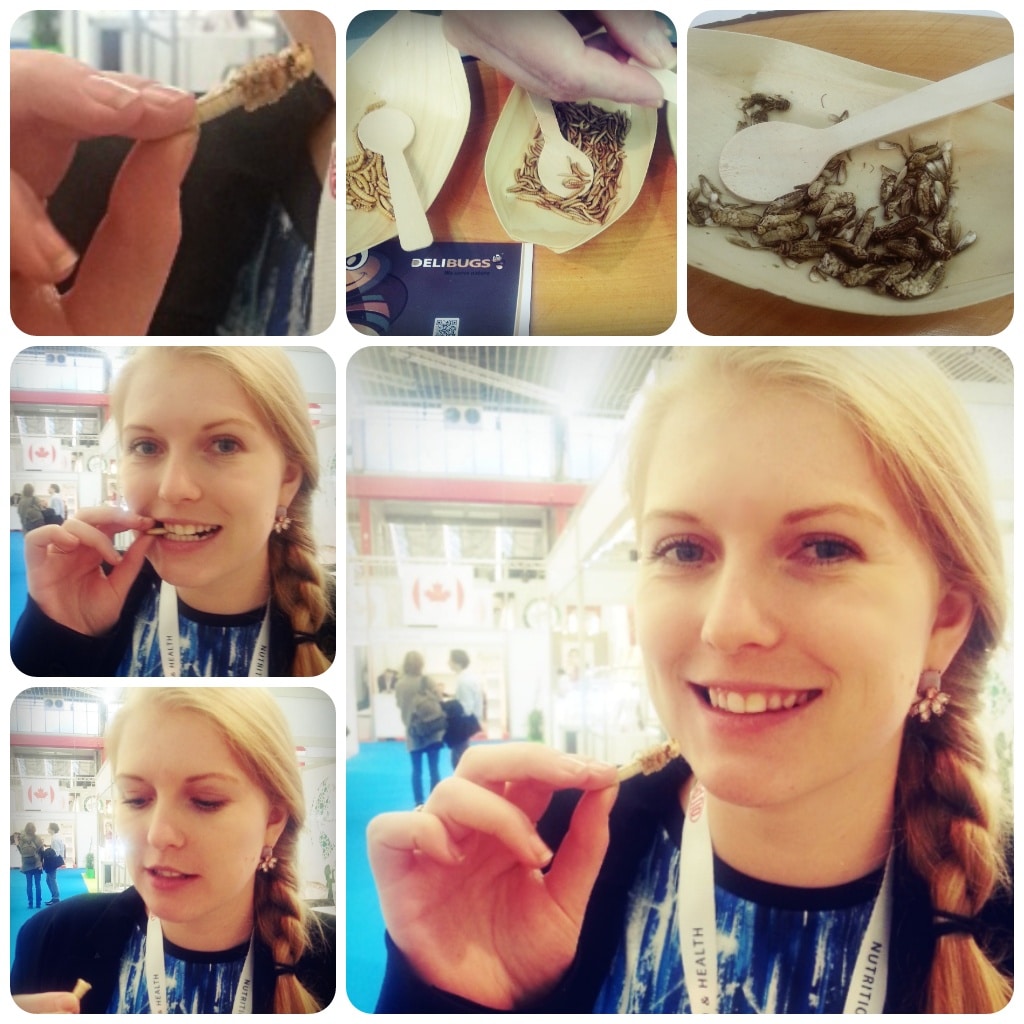 How about you? Did you go to the HIE? If so we would love to hear from you about your visit.
You can follow us on Twitter: @ingredientcomms, Google+ and LinkedIn for our latest updates.
Or feel free to contact me personally at [email protected]
All the best,
Kine Bjoralt